MinIO Hybrid Cloud Object Storage Available on Red Hat Marketplace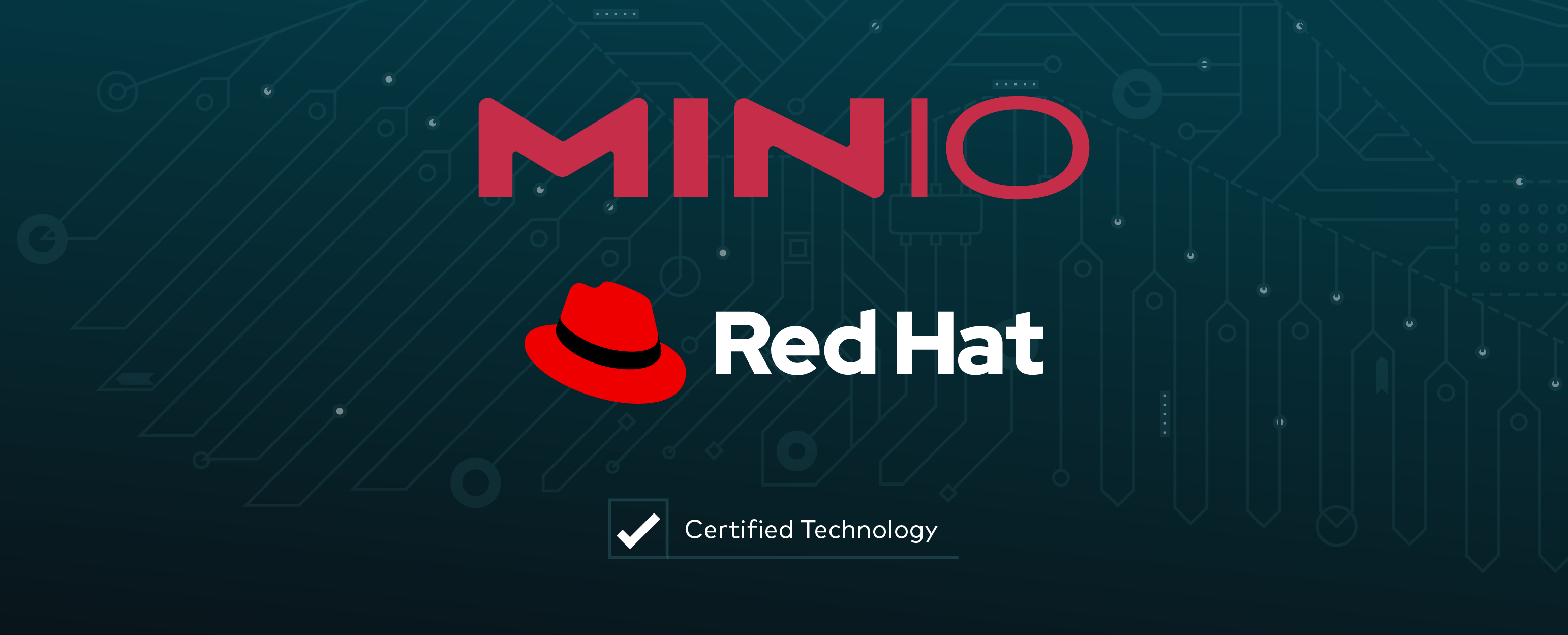 MinIO is committed to being everywhere and offers the most deployment options of any object storage across hybrid cloud environments using Kubernetes platforms such as VMware Tanzu, Amazon Elastic Kubernetes Service, Azure Kubernetes Service and Google Kubernetes Engine.
Adding Red Hat OpenShift to this already comprehensive list completes the circle and now we can officially say we are available everywhere.
MinIO is now available as a certified product on Red Hat Marketplace and in the Red Hat Ecosystem Catalog. Built in partnership by Red Hat and IBM, Red Hat Marketplace provides a simpler way to access and manage trusted enterprise software. Customers can purchase MinIO directly on Red Hat Marketplace using their preferred method such as credit card or by leveraging their existing commercial contract and enterprise licensing agreement with IBM.

OpenShift is important to us. We didn't just tick the boxes for availability, we went all the way to full certification. Our Kubernetes plugin, operator and console provide complete functionality with the OpenShift toolchain, making it easy to leverage MinIO within existing workflows on this enterprise-grade container platform. Extending our reach to the OpenShift ecosystem with a certified Kubernetes operator puts hybrid cloud object storage a mere click away for the 2000+ enterprises running this secure and tightly-managed container orchestration platform.
Red Hat chose to partner with MinIO because of the performance and simplicity that we bring to OpenShift customers who can leverage us to boost support for advanced containerized workloads. The MinIO Kubernetes Operator and Operator Console provide familiar and intuitive management for the fastest and most widely implemented cloud-native object storage on the planet. Red Hat turned to us, because as the leader in object storage, we are everywhere with over 600 million Docker pulls and thousands of production deployments.
Together, MinIO and OpenShift enable organizations to realize hybrid cloud initiatives while avoiding cloud lock-in. Enterprises can create and control a private cloud wherever they run OpenShift, where Kubernetes provides compute infrastructure and MinIO provides object storage. Combining the dependable OpenShift platform with the performance, reliability and scalability of MinIO Kubernetes-native object storage gives enterprise IT the power to consolidate disparate storage silos and securely expose them to DevOps teams and their applications.  
We promised our community that we would be everywhere, providing full support for the most demanding workloads running on any infrastructure. As we deliver on this promise, availability on OpenShift marks an important milestone because MinIO now covers 93% of the enterprise Kubernetes market with certified solutions and 100% with demonstrated solutions (there are thousands of instances of MinIO on clouds that aren't even our partners such as IBM Hosting and Oracle Cloud).
Getting Started with MinIO Hybrid Cloud Object Storage on Red Hat OpenShift
The easiest way to get started is to install the MinIO Operator using Red Hat Marketplace. With Red Hat Marketplace, organizations can discover, buy and quickly deploy certified software for Red Hat OpenShift Container Platform. We've fully stocked our Red Hat Marketplace listing with walkthroughs, documentation and best practices for running MinIO on OpenShift.
You can also install the MinIO Operator through the OperatorHub in the OpenShift Web Console. Log in using an account with `cluster-admin` privileges and navigate to the Administrator panel. Select Operators, then OperatorHub and search for "MinIO" to find the MinIO Operator.
After clicking the MinIO Operator tile in the search list, click Install to begin the guided installation.
To deploy your first MinIO Tenant, use the Web Console to browse to Operators, Installed Operators and then click on the MinIO Operator. Click Create Instance on the Tenant card to create a new MinIO tenant. See the resources section below for more information.
MinIO Dominates Hybrid Cloud Object Storage
MinIO isn't just dominating, we are defining hybrid and multi-cloud object storage. We are driven by cloud native and open source principles, and the results are astounding. MinIO stands alone as the only object storage solution running on every public cloud instance and certified on Tanzu and OpenShift private/multi/hybrid clouds. We are the only company to dominate the GigaOm rankings for private cloud object storage (both high-performance and general purpose).
Our success is a function of the fact that we do one thing - object storage - and we endeavor to do it better than anyone on the planet. We were born in the cloud and we are software defined. As the world's fastest object store, we run the widest set of workloads, and we run them with full S3 API compatibility so they don't have to be rewritten.
Certification and availability on Red Hat OpenShift are momentous milestones for MinIO, and we are delighted to partner with a fellow open-source pioneer on the journey.
Red Hat Marketplace
With Red Hat Marketplace, organizations can discover, buy and quickly deploy certified software for Red Hat OpenShift Container Platform. OpenShift is the leading enterprise Kubernetes platform that allows applications to run anywhere (on-premise, public, private or hybrid cloud environments).
Makes it easier for organizations to manage software assets and licenses.
Developers can more easily discover and use popular, trusted software.
Procurement teams save time with streamlined price negotiation and license management.
With access to trusted software, IT leaders can reduce the risk of security and compliance violations, while giving developers speed and agility.
Business leaders can evaluate software performance and investment, with comprehensive monitoring and usage tracking.
Products available through Red Hat Marketplace are certified for quality, performance, and security features. Each product is rigorously tested to meet enterprise standards and is supported by Red Hat and IBM.
MinIO and Red Hat Marketplace Resources
To learn more about MinIO hybrid cloud object storage and Red Hat Marketplace, check out the following resources: