MinIO Wins TechTarget's Storage Product of the Year for Cloud Storage!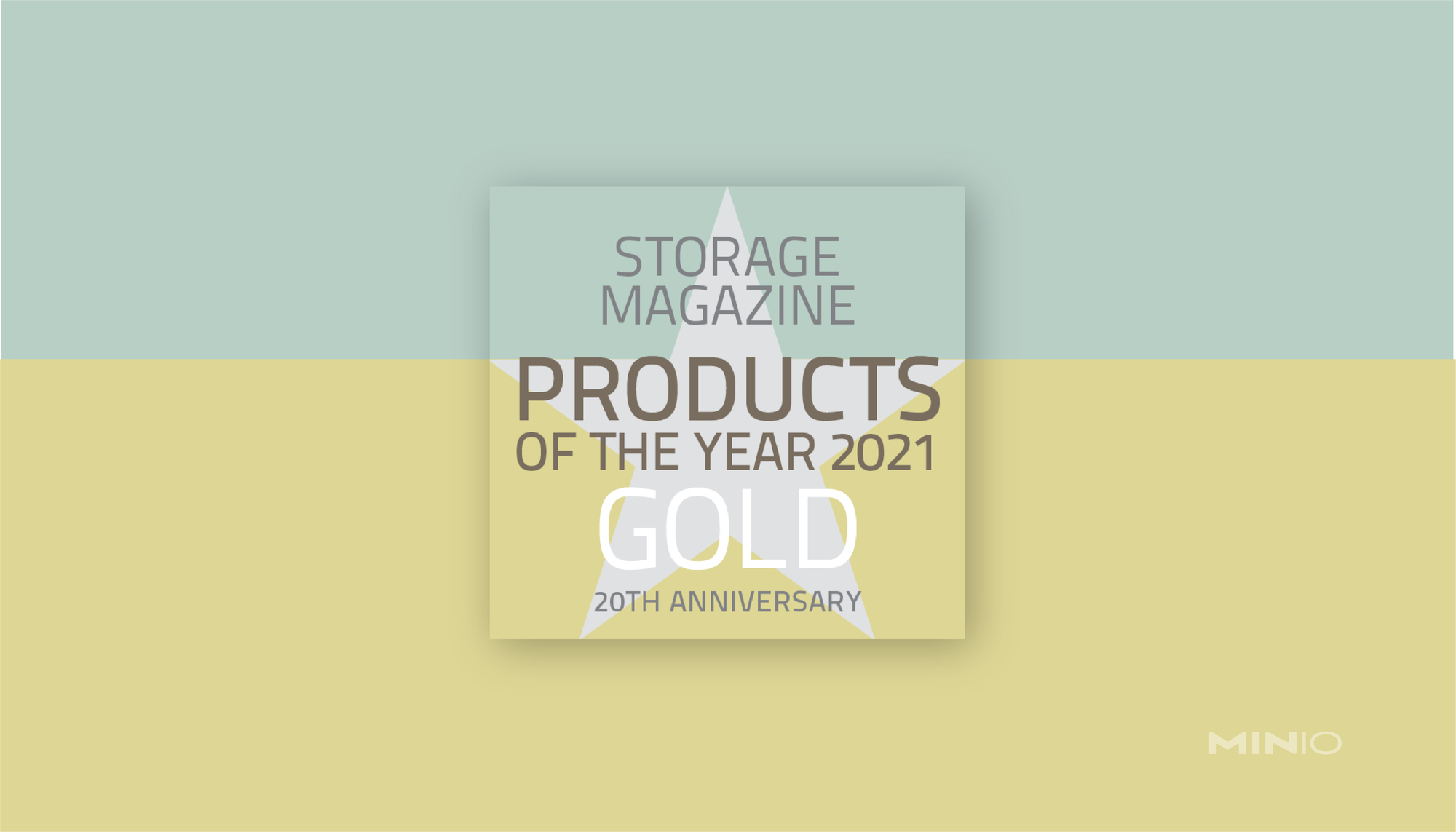 We mentioned last week that we had our eye on the TechTarget Storage Product of the Year awards. They are among the most coveted in the storage business. TechTarget is a machine unto itself and part of that machine is a ton of talented journalists and analysts so winning it means you impressed a lot of smart folks.

Everyone in the industry applies for the award.

The judges select the top fifteen Products of the Year (five of which are category products of the year or Gold Winners) from among nominated products. Innovation, performance, ease of integration into existing environment, ease of use and manageability, functionality and value drove the selection process. To be eligible, products had to be new or significantly upgraded storage-related enterprise products that first shipped on or after Sept. 21, 2020, and before Sept. 22, 2021.

Given MinIO had 49 releases at the end of September 2021 when the applications were due - well, we qualified as "significantly upgraded."

The features we featured included:


The MinIO Operator, which encapsulates the capabilities required for tenant creation, tenant expansion and tenant management. It is available on all major Kubernetes as well as Amazon's EKS, Azure's AKS and Google's GKE.

The MinIO Console, which provides an intuitive graphical interface to provision multi-tenant object storage as a service, visually inspect the health of the system, perform key audit tasks and integrate with other components with just a handful of clicks.

SUBNET Health, which automates root cause analysis by performing multipoint inspection across drives, network, CPU, memory, operating systems, containers and MinIO software components.

Continuous Data Protection, which delivers "time machine" functionality enabling the recovery of any object from any time - instantly.

The introduction of the server pool method of expansion, which eliminates the need to rebalance during expansion.

Ironically, one component of measurement was performance. MinIO won with two year old benchmarks. Our updated numbers, published in January improved our READ speeds by 80% on off the shelf NVMe instances. Untuned.

You can see the new and old benchmarks here.

The judges were full of compliments:

One judge called MinIO the "object store for everyone. [It] runs everywhere and runs blazingly fast."

One judge said MinIO's "storage technology and performance for Kubernetes-focused object storage is second to none."

Even those who think we can make it easier for IT to adopt had nice things to say:

"The product is still maturing in its overall 'enterprise readiness,'" one judge said. "Technical organizations will have no problem deploying the solution, but it's not as turnkey as some of its competitors. That lack of polish won't be an inhibitor for many, where the product's performance and capabilities will be the deciding factor."

TechTarget did a nice job of picking up on the dramatic rise and importance of Kubernetes:

"Gold winner MinIO Inc. represents a relatively new trend within the data storage industry. The ubiquity of Kubernetes has led legacy vendors to purchase many startups specializing in persistent storage for containers. Finding stateful high-performance container storage not tied to a specific vendor is a powerful sales pitch itself; this, in addition to numerous accolades from our judges, clinched MinIO's position as our best enterprise cloud storage product."

Needless to say, we are fired up. We don't work for awards, we work for customers and community - but to get recognition like this…well it feels pretty good. As a team we have been grinding hard since inception to build the enterprise armor to compliment our speed, scalability and simplicity. We have more to do - but wins like this help us get into more organizations.
Our software takes care of the rest.

Thanks again for your support!