Three Applications To Start Your Disaggregation Journey
The aggregation/disaggregation wheel is technology dependent. We are, however, in a heavy wave of disaggregation as it relates to compute and storage. Given currently available technologies the economics are pretty straightforward – companies big and small can save 60% plus on a TCO basis simply by separating the compute/analytics layer from the storage layer.

Sometimes we need a little context, so here are three applications that you can start moving today:

Hadoop/HDFS: There is a reason for this to be #1 on the list – it is the poster child for why you disaggregate. The growth of data has far outstripped compute creating massive inefficiencies. There used to be an excuse for staying with HDFS but now that object storage is as fast – if not faster – than HDFS, there is no reason to retain the complexity, the cost or the lack of cloud-native capabilities. Check out our Hadoop Migration Guide for some tips.

Splunk: The "Data to Everything" company has become a juggernaut by focusing on all the right things. With that success, however, comes some real discomfort around licensing costs. The solution is an architecture that disaggregates compute (in the form of Indexers) and storage (in the form of S3 compatible object storage for all that log goodness). Provided your storage tier is performant, you can use it as the primary storage tier – reducing your costs by 60% plus – and likely simplifying your life in the process. Bonus endorsement from Splunk - they use MinIO in their own products (DSP and DFS).

Veeam: Backups are big business and Veeam is the leader. They have a huge push for S3 endpoints. This is because they are superb at listening to their 350,000 customers - all who want object storage's legendary scalability and resiliency. While "on the record" Veeam doesn't play favorites - truth is they use us internally and are huge fans. MinIO is one of their favorites: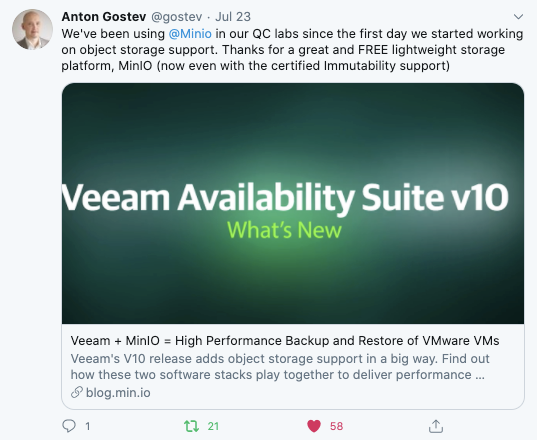 With the coveted Immutability badge earned, MinIO is the go to choice for organizations looking to combine rapid backups and rapid restore with object locking to foil the ransomware criminals.

So let's get after it!

We have considerable talent and technology to help you on your journey. A subscription to the software is the best place to start as it combines a commercial license to the software with a support experience unlike anything you have ever encountered.