EMA Research's Top 3 - Hybrid Cloud Management: Enterprise Data Services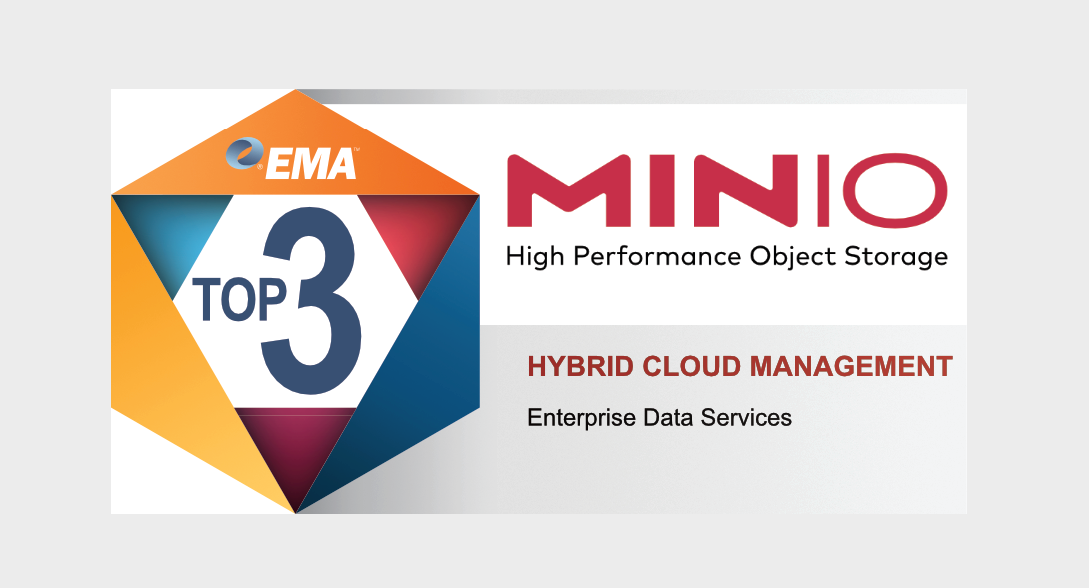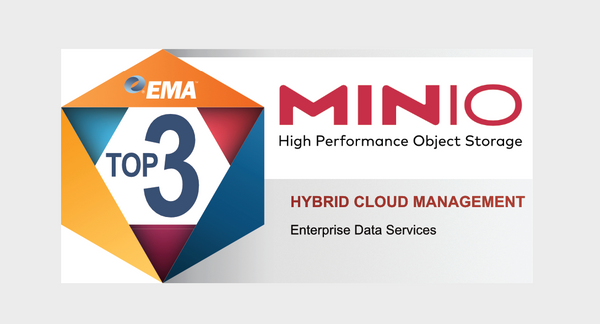 We are fans of EMA's approach to research. They go where the data tells them to and don't rely on what "used to be" focusing instead on where the market is today. It is smart - predicting the future is hard but looking in the rearview mirror in order to drive is also fraught with danger.
EMA's managing research director of containers, DevOps, machine learning and artificial intelligence, Torsten Volk, responds by focusing on what is in front of him. This means applying data science to the exceptional amount of data that exists in places like GitHub, StackOverflow, venture funding, search traffic and other data sources.
Unlike other research shops, Torsten and EMA are also focused on the developer audience. They look to provide guidance to developers, devops, site reliability engineers, ITops and data science. They speak to the business user, but through the lens of the doers inside the modern enterprise.
Each year they present the Top 3 awards to software products that help enterprises reach their digital transformation goals by optimizing product quality, time to market, production cost, and ability to innovate.
EMA's model is remarkably transparent. They look at five key elements:

Empirical: what are the specific key customer pain points for each one of the top challenges in DevOps, SREs, IT operations, and businesses in 2020.
Strategic: How do the candidate products address the key pain points identified in step 1 and how does it align with relevant technology trends.
Innovative: This criteria rewards products for breaking with legacy constraints in order to provide customers with truly innovative solutions.
Customer-centric: EMA Top 3 awards reward a product vendor's radical focus on customer requirements instead of marketing an existing product as something new.
Specific: EMA Top 3 award-winning products address quantifiable customer pain points.

While we have buried the lead here - we are one of the Top 3 this year. The category we were named in was Hybrid Cloud Management: Enterprise Data Services. EMA defines Hybrid Cloud Management as follows:

"Hybrid cloud management platforms provide the governance, orchestration, automation, management, and infrastructure services required for the rapid, flexible, scalable, secure, continuous, and cost-efficient shipment and operations of software products."


The analysis considered 428 vendors encompassing 506 funding rounds totalling $2.6B. Those companies are looking to hire more than 5,000 employees. That is a growth market.
The connectivity among the winners was Kubernetes. Data drives everything and everything data will run on Kubernetes. Take anything an enterprise does - backup/restore, data protection, deduplication, encryption, high availability, and snapshotting. They are increasingly based on microservices running on top of Kubernetes on premises or in the public cloud.
This is why appliances are going to struggle to make the transition. They are not software defined, they can't be containerized.
Even when you drop the legacy appliance vendors the picture of companies in the cloud native space is daunting.


There are 44 cloud-native storage solutions.  MinIO has 3x the GitHub stars as the closest competitor. Think about that. 3x.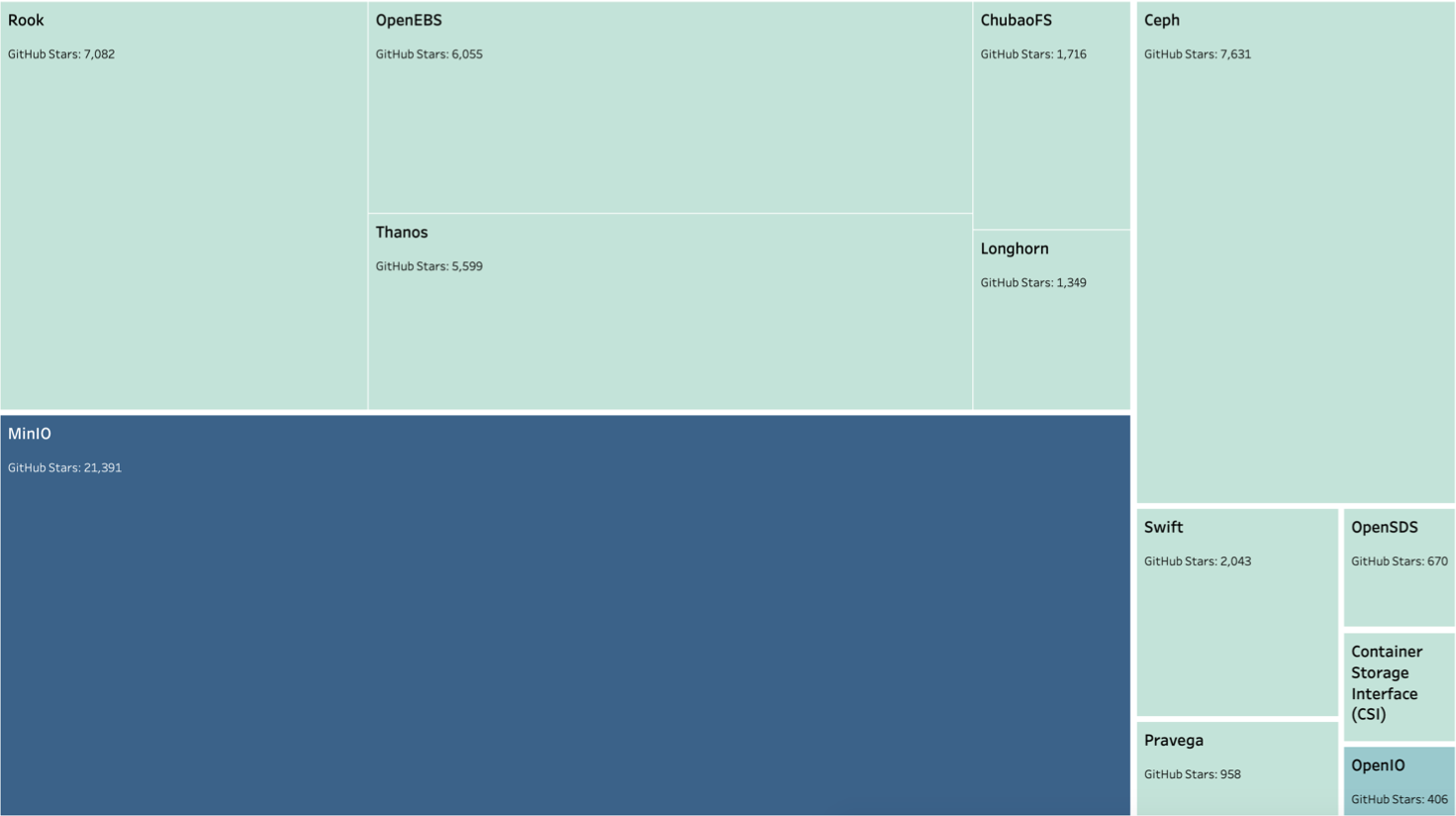 Ultimately it comes down to who is truly cloud native. Developers are not easily fooled by marketing monikers. They will make the determination based on their experience, the richness of the integrations offered and the combination of power, simplicity and control.
Those are the users that carried us to this recognition and for that we are deeply appreciative.
Torsten added this quote to our press release:

"We selected MinIO as one of our EMA Top 3 products because this object storage platform radically simplifies storage management for stateful applications on top of Kubernetes and any other cloud-native application platform," said Torsten Volk, managing research director of containers, DevOps, machine learning and artificial intelligence of EMA. "MinIO basically creates a unified, ever present storage platform that provides a consolidated set of data services across otherwise complex data center and cloud infrastructure, enabling distributed applications to access their data from anywhere, without needing code changes. This combination of storage simplification while still being able to offer storage performance high enough for big data and deep learning use cases constitutes an interesting value position for enterprises struggling to get their storage to scale with their cloud-native apps."
We have made the entire report available for free.  No email gate, no registration required. Take a look and feel free to reach out to the team at EMA for more information.